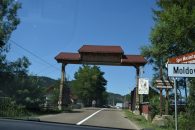 The long and winding road from Moldova through Transylvania to Walachia (north to south)
From our rural retreat in Maramures we headed east to Moldova crossing the Carpathians by the Borgo pass road enroute to Bucovina. Egg painting is a competition among the villages at Easter time.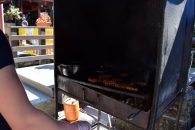 Lunch today was Mici, a rectangular meat pattie cooked on a BBQ and served with mustard sauce.

Visited two painted monasteries (orthodox). The first was for the local community (Moldovita) and used as a refuge in times of siege. Note the wall and the strong wooden gate.
The second was for the clergy (Sucevita). The outside walls of the church was decorated, one illustrating the difficult path in getting into heaven. Inside, the frescoes showed various methods of torture and head lopping. Again a walled garden and plenty of room for the local community to shelter in times of siege.
Next highlight of the road was the animal reservation with animals native to the area. One sad and lonely bear, a small herd of buffalo and several different species of deer.
We drove through the Bicaz gorge (river running down the side). Sampled some green nut jam. Walnuts cooked in a syrup halfway between golden syrup and malt extract. An acquired taste.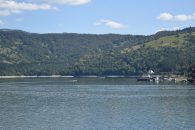 Our route took us past Lake Rosu, really a dam and then onto Brasov.
Brasov is also fortified. City square with Lutheran church – aka Black Church due to a fire. Johannes Honterus was
responsible for setting up the Lutheran church and the building of the first school (directly across from the church). The original school was wooden but suffered the same fate as the church and was rebuilt in stone.
It has been particularly pleasant having an evening stroll through the many pedestrian malls in our travels.
Fort on the hill outside Brasov. Spectacular view of the surrounding country.
Bran castle – summer residence of Queen Mary of Romania. No vampires in site. Apparently Vlad the Impaler (Dracula) was have seen it on his way through. The most interesting artifact was the scales of justice. Based on a person's size and height, if they weighed less than expected they were considered apprentices of Satan and torture would commence. Hopefully you can read the information in the photo.
The most elaborate building in Transylvania is Peles Castle. Unfortunately only outside views, but obviously prime real estate.