Note re Tuesday 9 from Jenelle: We opted to skip the tour to Astana and chose to do reconnaissance around our village and the lake. The morning trip to the village netted a new water heater to replace the one I cooked. There was much effort in repairing it, but decided it was a lost cause.  Afternoon trip along the lake, the boys did what they usually do – climb rocks.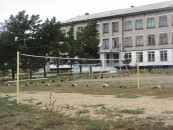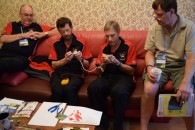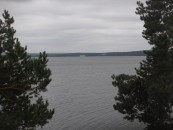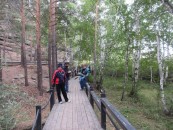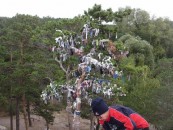 Wednesday 10 September
Jenelle:   Apart from the inclement weather it was not a good start. We discovered a mouse in our room, actually in Ewen's bag eating his licorice allsorts. For those of you who know Ewen well, this did not go down too well. We are all not looking forward to 2 metre event, there were problems on Sunday on training with some of our blue boxes not auto ranging. Knew the steps to do it manually, but it was just another unknown in the equation.
Note: The team leader's lot is not a happy one. We sense Jack is getting a little fed up with team leader meetings. He needs all the accolades he can get. He is doing a stirling job.
Jack: Now let's forget about meetings and get into the second classic event, for all of us it was 2m. Weather was cold, overcast and wet not great weather for ARDF. We arrived ( rugged up) at the start location and after settling in discovered that the start list had changed. For some reason I did not get an up to date start list handed out the night before. I will endeavour to make sure this does not happen again.
Note from Jenelle: All that double checking at work has paid off. Having trouble remembering 2 digit numbers  today, so I thought I better check my start group again. Oops my start time had changed, and so had everyone elses. Frantically checked for Greg's and discovered that he was starting nearly an hour earlier. Breathe!!!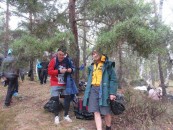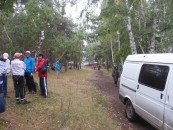 Jack: I was first off again followed by Bruce. Next was Greg then Jenelle followed by Ewen. As there was some time before the last 3 members start they were allowed to wait on the bus. The course was wet, steep lots of trees and very rocky. Ewen, Greg and I only had to find TX 1,3,4. Jenelle was looking for 1,2 & 4 and for some reason Bruce's category had to find all 5 where as the rest of us only needed to find 3. As expected the 2m transmitters played havoc with our receivers. All except Bruce were forced to use manual attenuation to get good df's. I spent too much time looking for the first transmitter but then settled down and had a reasonable course for the next 2. Bruce did well to find all of his transmitters in a reasonable time but got one out of order and it was only luck he was able to collect it on the way to one of the other foxes. Bruce finished before me and we both went to the finish chute to cheer on the others. Greg and Jenelle (all 3 txs and under 2 hours) had a good course and were happy with the times. Ewen was not happy with his result and was looking forward to the next event to improve (needs to approach finish shute from the right direction). Looking at the M60 results to be in the top 10 you need to be extremely fast for example UA3BL Cherman from Russia took out first place with a time of 32:23 with our times in the 80 minutes region we don't stand a chance. I expect our best on this course would be in the high 50's still way off the mark.
Note from Jenelle: It was always reassuring to know the team was waiting at the finish for you, well in advance. At one point the finish beacon went off and Bruce improvised with the trumpet sending MO (morse for the beacon)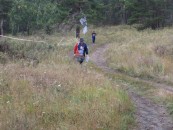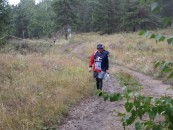 After tea was the awarding ceremony and although I like to see people receive awards it was hard to listen to all of the national anthems in some cases many times. This ceremony went on until about 23:00. By the time I got to my room sorted out some things for the event in the morning and then checked the results and start list for the next event I finally got into bed about 23:45.

Note from Jenelle: Getting elevation seemed to be the key to today's event. This worked extremely well and the quads and gluts are not complaining. Happy vegemite today. Met up with Vita from Lithuania, gold medal winner in W35. Stayed for that part of the ceremony. It took a long time to start. Presentation to a visiting dignitary of a special Kazak robe. We also have a very charming translator, Anton who was very keen to have a photo with an Australian team member and flag. How could I refuse? We were planning an early night tonight, but hotel staff arrived after we had gone to bed with a mouse trap complete with cheese. Hopefully this will net a positive result.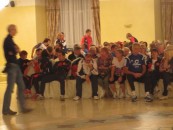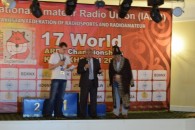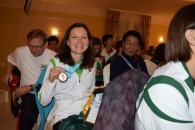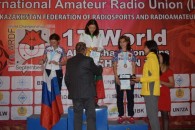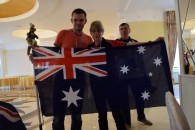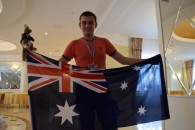 Thursday 11 September
Jenelle:  Another bleak and chilly start today, and to make matters worse the mouse has taken the cheese and not set off the trap.  This was not the only hiccup for the day. The local council has decided to cut a large trench right across the road which necessitated a 1.2 km walk to the other hotel to catch the bus to the start.
It was much the same routine to start the event. Link to website with today's sprint map – http://ardf.darc.de/contest/14090812/14090812.htm#map140910.
Today it was the sprint, in other words hunting by numbers (frequencies). For me it was transimitters 2,3,5 on 3.51 MHz (slow), spectator beacon (S) on 3.54MHz, then transmitters 2,3,4 on 3.57MHz(fast) and then the final beacon on 3.6MHz. Managed to locate only No 3 of my slow ones, found 1 & 4 but they were no use to me. Taken on the advice of the more experienced hunters," if you can't find it where you are, go somewhere else". Unfortunately that took me straight across the marsh and with only 20 minutes left of my 60 minute time I headed for the spectator beacon. Lots of cheering and photos here from the officials (no public spectators) , which made you feel like you were an elite performer – NOT!! Time was moving on as they say, so sensing transmitters 2 & 4 (fast) were reasonably closer made a desperate attempt to find one of them. I felt like I was being shadowed by 4 other competitors. I knew I was close, and then the gods smiled on me. A piece of red and white hazard tape flapped in the breeze. A ha No 4. Nine minutes left to get home. With trusty sniffer set to 3.6 MHz, I headed for the final beacon and the finish shute. I could hear Bruce's trumpet in the distance and sensed the urgency. Not much run left in the legs today, but managed to finish with three minutes to spare. Not a great result, but as a first attempt I was happy to get back in time. Ruth from USA and I seem to be winning the quinella at the wrong end. The other Aussie team members had varying results. Both Greg and I are happy to have completed our first sprint events within the allocated time.
Bus trip back to the hotel was quite illuminating. Met a visitor with the Hungarian team, apparently the next World Championships are in Bulgaria in 2016. Will have to put my leave application in when I get back to work.