Our trip began with a short 20 hour flight to Bucharest. The most impressive building in the city is the Parliament House, second largest building only to the Pentagon. Ceausescu thought he would leave his mark by commencing this build, fortunately for the people of Romania he didn't live to see its completion. It is a magnificent building inside, very tastefully decorated with high ceilings, marble floors and beautiful rugs and chandeliers. (no photos unfortunately as did not have a camera pass)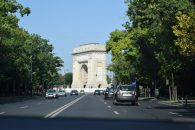 Another beautiful building was the auditorium for musical concerts. We chanced upon workers changing a light globe, quite an art in itself.
We visited the old town and enjoyed a drop of the local ale.
Many old buildings in state of disrepair, including this ruin outside our hotel window. (more interesting than a carpark) Taken from our room as there was a sign outside indicating no photos to be taken (left over from communist regime)
From Bucharest we headed west to the church (in white limestone) where the Romanian kings were buried. Lavishly decorated inside. Vlad the Impaler (Dracula) lived in the building behind this church.
This is one of the fortifications that the Austrian Hungarian Emperor sent German people to build in 12-13th century. It has suffered due to earthquakes over time. Opted not to climb the 1460 steps. Chose to indulge in a Romanian donut instead!
There was a very large dam (about the size of Hoover Dam) that needed closer inspection. Traversed the Transfagarasan Road (of Jeremy Clarkson fame), (perfect for road testing a corvette or similar vehicle) and then took a cable car for a less exhilarating ride.
Please excuse the erratic formatting. Only get to practice this once a year.  Jenelle