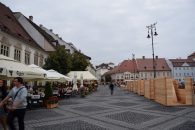 Arrived safely in Transylvania in the town of Sibiu, only slightly misty and light fog. It is light till fairly late and enjoyed strolling around the city squares and along the old wall. The squares were within the fortified walls and protected the guilds of many crafts. The blacksmith's shop had a good array of industrial strength fasteners.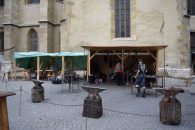 Note the 4 towers on the church, this meant the town had a legal system and justice would be metred out for criminal behaviour. (we escaped Sibiu without penalty)
Climbed the clock tower of the Lutheran church, the clock was very old, but the driving mechanism was very up to date (electronic). Pipe organ inside.
Outside there was a display of blacksmithing and stone masonery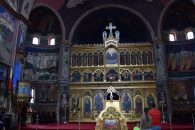 Orthodox church with exquisite stained glass windows, gold leaf frescoes and intricate wood carving.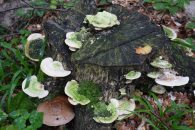 Road side stop along the way, a little sample of what we are expecting in the ARDF area. Interesting fungi. Not the edible kind.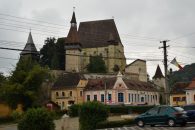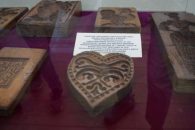 At Biertan, fortified church with 3 walls of protection and if that failed there was the room with the door with many locks. The town was settled by German people and hence the buildings have a similar style about them. Many German people left Romania after Ceausescu was deposed, but send their bodies back to be buried in the cemetery here.
Food and hospitality is excellent in Romania. 250 mls of house white of exceptional quality for under $3 and then complimentary palinka and black currant "cordial". We enjoyed a late evening stroll around the city wall at Sibiu.

We thought of you all as we headed off to the salt mine in Turda (this word causes me some grief) today. Salt mining was one of the main industries in Transylvania.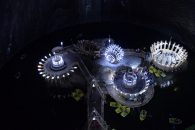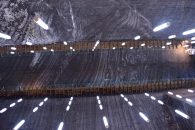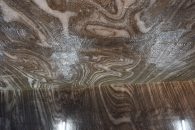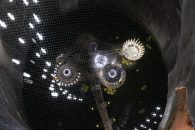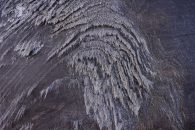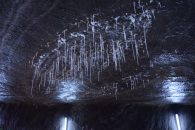 Many flights of stairs to the bottom, the queues were quite long for the lifts, so we got lots of exercise. To make it entertaining for the families they have installed a children's playground on the bottom layer. Of course we had to ride on the ferris wheel, but there was also table tennis tables, pool tables, mini golf, even a pond with paddle boats but no coffee!!
Ewen is still puzzling how the walls stay up. If you take a vertical cross section it looks like a conical flask about 90 metres deep, with elevated platform at the neck. Not good if you don't do heights very well.
Another interesting old wooden church tucked off the road on the way to Maramures. Inside was particularly interesting.