Our guest house at Maramures is located in a peaceful rural setting apart from the chainsaws, angle grinders and whipper snippers. Hospitality here is exceptionally good.
Dinner was in an open air setting
Entree meat balls, soft cheeses, pork fat and tomato with onion bread
Bean soup
Pork goulash
The lightest, fluffiest and tastiest donuts ever with blackcurrant jam
All washed down with Palinka and black currant "cordial"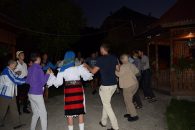 Needed a sleep in after last night!
Late start, headed for the local market, plenty of "stuff" to buy from clothing, shoes, manchester and tools. Too late for the animal market. Probably a good thing.
Checked out a modern monastery at Barsana, beautiful wooden buildings and gardens, church with pictorial stories.
Memorial to the opponents of the communist regime, very bleak place.
In a complete contrast we visited the Merry cemetery at Sapanta with colourful wooden headstones with pictures of deceased in their occupations and poems about them (all in Romanian of course)

Spent a leisurely afternoon in the outdoor area. We have eaten so well the last few days Ewen has survived since breakfast on only one jam pancake.
We could not escape Maramures without a ride on the Mocanita narrow gauge railway at Viseu de Sus very close to the Ukrainian border. For the more ardent train fans it was a 1930s vintage steam locomotive that was used to transport timber down the valley. Originally timber was floated down the river, but after a dam burst the train line was built. The 21km ride to the turn around point was supposed to take just over 2 hours. It became pretty evident early on that at the current speed something was amiss and it would be a lot longer (3 hours eventually). Repairs were needed along the way and after much banging and crashing a bearing was suitably adjusted and we continued on our way. Included in the tool set was a most impressive oil can.
The track followed the river most of the way. Still plenty of logging happening here with some unorthodox methods of transportation. A large tractor pulling 10 -15 m logs down the river and smaller pieces being drawn by horse driven carts.
At one point the river narrowed with steep cliffs and caves hidden behind bushes. It was here that the German army had a first aid centre and stored supplies. It was also the point when they planned to ambush the Red army. There was a small museum at the turn around point and a picnic ground.
The return trip took only 90 minutes which was a relief. Sufficiently rocked, rattled and shaken for the complete trip.
There are a few obstacles along the roads in Romania, this cart was one of the smaller ones.
PS  Jenelle is having a love hate relationship with the formatting!!