The Gardiner's Bend RadiO event on Saturday 9 September 2017 took place on a gloriously sunny spring afternoon and was an opportunity to explore the parkland around Gardiner's Creek and Ashburton.
6 participants tried out the RadiO combo course – a combination of foxor TXs and street-o controls. 2 went for foxors only.
Darian and Pierre took  a conservative approach and collected 5 foxors without giving in to the lure of more far-flung foxors and controls. Neale did a very efficient course and returned well within the time. It was a long course if you tried to collect them all (over 15 km!). Hamish, Monica and Ian succumbed to temptation and had adventures and were late returning – Monica plagued by an injured ankle and Ian chasing reflections from the Monash Freeway wall.
Jack and Peter enjoyed the sunshine and visited the foxors only – Peter taking the scenic route home.
Thanks to all for coming and helping with the setup and pull down.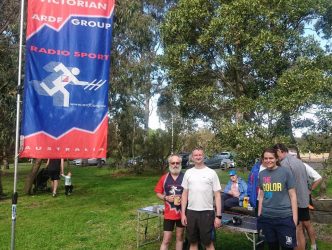 GARDINERS BEND RESULTS
RADI-O EVENT 9 SEPTEMBER 2017
| | | | | | | | | |
| --- | --- | --- | --- | --- | --- | --- | --- | --- |
| RADI-O COMBO | | | | | | | | |
| NAME | 2 PTS | 3 PTS | 4 PTS | 5 PTS | RADI-O | TIME | PENALTY | TOTAL |
| Ian Dodd | 8 | 12 | 16 | 25 | 60 | 3:19:36 | -45 | 76 |
| Neale Banks | | 3 | 12 | 15 | 40 | 3:01:45 | | 70 |
| Darian Panter | 4 | | 4 | 10 | 50 | 3:03:10 | | 68 |
| Pierre Brokner | 4 | | 4 | 10 | 50 | 3:03:45 | | 68 |
| Monica Lo Presti | | 6 | 12 | 15 | 50 | 3:11:05 | -21 | 62 |
| Hamish McDonald | 6 | 3 | 12 | 10 | 50 | 3:14:10 | -30 | 51 |
| | | | | | | | | |
| RADI-O | | | | | | | | |
| NAME | RADI-O | TIME | PENALTY | TOTAL | | | | |
| Jack Bramham | 50 | 2:59:00 | | 50 | | | | |
| Peter Cole | 50 | 3:46:00 | -84 | -34 | | | | |
Suzanne O'Callaghan VK3FSZI
Course setter