Hi,
  to all those still following 🙂
Today's blog comes from Bruce, and covers the last 2 days of competition here in Gumna.
However, before that, here's some pictures from the awards ceremony covering the first 2 days.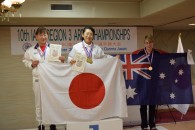 Yesterday was the 2nd classic ARDF event; 2m for Jenelle, Ewen & Jack, 80m for Kristian and myself.
Yep more wettish conditions, but far less rain, more just humidity and wet forest. After issues with water somehow making it into the 80m sniffers the day before, in the torrential rain on the Sprint day, we were all equipped with multiple layers of plastic bags today.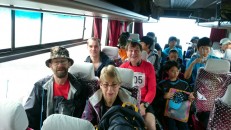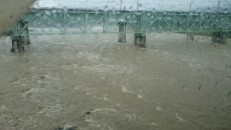 The Start location was the same, but we went the opposite direction.
For some reason they had North at an angle and downwards on the map; no orienteering conventions followed here !  At least there are blue North lines.
The terrain was hillier, with some pretty impressive cliffs.
Kristian wasn't quite able to maintain his commanding form today, but still managed a commendable silver, as luckily others in Open found it tough too. We estimate the running 'orienteering' time would have been under 30mins, so the course length was short, but tricky dircetion finding.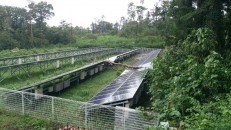 Not the same story in my age group, with some times around 44 mins (well under the Open times, with the TX we didn't have to find only a few mins extra.
I had an awful day making mistakes/confused on both my first and last TX, so with 2 major errors consigned down to 7th.
All Jenelle's W60 girls DNF'd either with overtime or no TXs found, with Jenelle heartbreakingly the closest on only 2 mins overtime. The overtime rules in ARDF are sudden death ! Time limit was 2.5 hours. More some navigational confusion this time, apparently. No medals in W60 for this one.
Ewen and Jack have pulled off a team gold. Jack did a great course to get bronze, but Ewen had a pretty awful time on 2m at one of the TX's, and made it back with only minutes to spare. Those who beat Jack, though, each only had 1 team-mate, and they both failled to find all TX's, so that puts the team result up the top, despite the pretty average total time.
Greg, as a roving field referee, may have travelled more distance than any of us competitors, as he visited all controls, both 2m and 80m, and he had a fun time walking aroind with his Japanese counterpart. One 80m TX was misplaced, resulting in it being only about 350m from another 80m TX. Both Kristian and my GPS traces confirm this. The organisers are collecting all contributed competitors GPS tracks in order to do some sort of live replay.
So, another pretty good day for the Aussies.
In the FoxOr today, the courses were yet again from the same start area, this time with a map overlapping with the first classic a fair bit, but landscape rather than portrait.
Again Kristian beats all for gold on a physically tough M21 course (only drop 1 particular FoxOr). By a good 25min margin too.
Today he was joined by Jennelle who picked her way carefully through the W60 course to soundly beat the other 2 ladies. Another gold.
Ewen had nothing left in the tank afterwards but did a consistent course to get a well earned silver.  The
orienteering expertise showing through.
That's it for the medals today.  Looked for a while like I might get one despite a poor order selection on my part (really I should know better!), but two Lee's from Korea downloaded very late,  both with shorter times,  pushing me into the 4th place twilight zone, with Nikolai from USA in first.
Great event by Japan, in challenging conditions, especially the sprint day. This terrain was much more forest runnable than back in 2005.
The only comments I might make were:
– The training day transmitters were not properly representative of those used in the field.
– Downloading at the hotel afterwards is a bit frustrating, not knowing till much later in the day how you fared.
– Transmitter placement a bit off yesterday resulting in TXs too close (but it didn't really impact on the competition).
– Start list generation needs lots of work.  Many in same category starting together.
Pictures from tonight's awarding ceremony may appear in a later blog.
Cheers Bruce