The training day was wet, but the signals all seemed to be quite strong. (perhaps too strong?)
The sprint transmitters seemed to be stronger than the classic ARDF transmitters!

ARDF classic competition #1
On a very wet day the ARDF competitors gathered up a muddy creek ready for the start.
Jenelle, Bruce and Kristian were all on 2m whilst Jack and Ewen were on 80m.
The very first start group had Kristian and Ewen in it, with the other Australians starting up to 30 mins later.
The course provided interesting terrain with some very runnable forest, and some areas that you wouldn't dream of entering into, and if you ask Jenelle possibly even a nice house with a warm heater in it?
After some mucking around on his first Tx Bruce gathered his thoughts, and finished strong with a fantastic sprint from on side of the map to the other. Bruce managed to grab Bronze in the M50 2m category.
Ewen had some initial technical issues, but then recovered and had a pretty good run, finishing just outside of the medals.
Jack had a couple of overshoots but also managed to get to the end without too much drama. Jack came in in 4th position in the M60 category.
Jack and Ewen secured bronze in the M60 classic 80m team competition.
Jenelle spent a fair amount of time searching for Tx4, but then with time almost up and having switched to her spare receiver she attempted to locate the finish beacon, but this seemed to be in the wrong direction. Eventually after flagging down a passing motorist, Jenelle was shown some true Japanese hospitality, before her hosts were eventually able to get in contact with the organisers, who when they were collecting her also appeared to be some what lost.
Kristian had a great start getting the first 4 Tx's pretty quickly, but took the scenic route around a pig farm to get the last one, before being the first competitor back at the finish. This run was enough secure gold in the M21 category.
Along the way various people saw Greg wandering around looking very official. Greg found most of the 2m and 80m transmitters.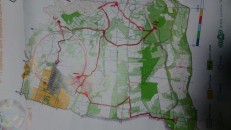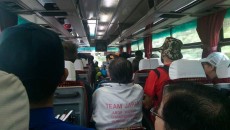 It was very, very, very wet thanks to Tropical storm Etau.
Bruce got everything he needed, but unfortunately one of his punches didn't register correctly.
Ewen managed to find everything he needed, and ended up in the silver medal position in M60.
Jack did the first half, but then went to the finish thinking it was the spectator beacon.
Jenelle found all of hers except for 1 and headed into the finish a little bit early. Which gave her the bronze medal in W60.
Kristian found everything eventually, but finished outside of the placings.
There were a number of (probably water related) technical issues, which are currently trying to be resolved before we go back into the wet tomorrow.
Greg only managed to spot Jenelle out on course in the rain.
(sorry, no pics today, as it was too wet.)
Tonight is the awarding ceremony for the first classic event and the sprint, and apparently it can viewed live at http://www.jarl.com/reg3ardf2015/
The presentations are scheduled to start at 7pm local time (8pm AEST).