Monday 28 January
At sea. Conditions deteriorating. Lots of napping. Some eating and meds.
If you bought a ticket to support the eradication of the rats on South Georgia island you were entered in a raffle for a beautifully illustrated chart of our Spirit of Shackleton trip. No such luck. But I did managed to outbid Ian from Qld for a book on Whaling in South Georgia which Ewen really wanted.  Last second bid but managed to secure it. Must have been all that practice on Ebay.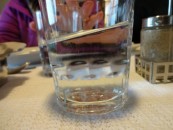 Another dinner holding onto the table as we sailed down the Bransfield Strait.
Tuesday 29 January
Very rough overnight. No early morning wake up call, but now confined to cabins.
Report at 9,45am. Winds 60 knots. Gusting to 89 knots.  Waves 8-9 metres.
Breakfast in bed. Yoghurt, apple, bun and cake. Delivered by Kirsten the assistant Expedition leader
A little later Sam dropped by with water bottles. Good left hand catch pitched from the door way.
We had a visit from Dmitri and Josephine , the most visitors we have had all trip.
Lunch duly arrived about 12.30, wait for it, meat pattie in bun with lettuce and cucumber, cheese sandwich, and cold chips plus a can of drink. We were lucky to be on the third level which meant at least we could watch the waves as they rose and then sprayed against the side of the ship. More entertainment for us than those on the deck below who had their metal covers placed on their port holes. All in all a very relaxing day, and about 3pm when we eventually got in the lee of the Cape of Horn we could venture out and relieve the symptoms of cabin fever.
Wednesday 30 January
Disembarkment today. We spent most of the morning saying goodbye to new friends, at breakfast, on the bus to the airport, at the coffee shop, in the departure lounge, even on the flight back to Buenos Aires. We were hoping to meet up with a couple from London for dinner, but Ewen succumbed to a migraine. I expect it was the result of another case of inflight food of chocolate biscuits and apple juice.
We actually met up with the "Odd Man In" team downtown in Buenos Aires when we eventually stepped out for a quick bite to eat later that night. We were quite hungry by then.
PS Need to call it a night. Early morning flight to Lima
J