Friday 25 January
Half Moon Bay
We were still searching for Macaroni penguins, but managed to find more chin strap penguins and some feeding their baby chicks.
Deception Island
There is a very sheltered bay in the middle of this island, called Whalers Bay where there are the remains of an old whaling station and a research base that had been destroyed by a volcano in the early 1960s. The old buildings were filled with mud from the ash. The sand on the beach was black and you could actually see steam coming off the beach. This was the site for the Polar Plunge. The water on the edge here was positively warm (abt 3 deg) compared to the ocean, we chickened out and left it to the more foolhardy to brave the water.
We walked to one of the high points for the view and checked out the melting glacier on the return to the zodiac. If no one believes that the glaciers are melting they would after they see the continuous drops of water coming off them.
The sea started to become much rougher as we entered the Gerlache strait.
Robbie burns night, just as the bagpipes started to pipe in the haggis the ship began to lurch violently. The wait staff were amazing as they balanced all the trays and the haggis was saved.
Saturday 26 January
Early start today –
View of sunrise, then for Petermann island ( the furtherest south that we went  nearly 66 degrees, not quite to the Antarctic Circle) We needed to climb up a rocky hill before descending to the bay on the other side to the landing site. This high spot was a good vantage point to watch the albatroses soaring on the updrafts near the cliff. Further along there was a Gentoo penguin nursery. Here there were more baby penguins. Lot of the Gentoo penguins had two chicks and it was rather special seeing them at such close range. Also Adelie penguins as well.
We took to the zodiacs once more and nothing could have prepared us for what happened   next. There were humpback whales about 2-3 metres away from zodiac, breathtaking. Ozzie cut the motor on the zodiac and the whales came to us, some breaching others spouting.  (Could have spent a lot more time here too). Eventually found a solitary penguin on an iceberg. Even managed to collect some ice for the bar. On our returning to boat I managed to get a photo of the tails of two whales as they made their dive.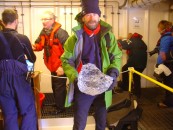 More ice for the bar for today's celebrations !!