Bumper Edition !
This is a bit of a combined blog form 2 different blog streams, so it may be a bit disjointed this time !
First is Bruce's stuff, followed by Jenelle's & Ewen's extra details of their adventures.
Thursday
Visited the Pecs city centre by bike this morning, and had memories of seeing parts of it before, on a whirlwind tour given by Gyrui's former wife quite a few years ago.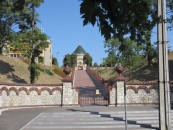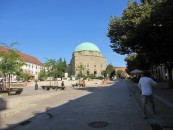 Gyrui and Anna drove me to Kelebia in the afternoon, in order to catch the train to Belgrade. Unfortunately a couple of hours drive, but other options were limited (eg. catching the train back the wrong direction to return again on the Belgrade line). The train was running late, and ended up in Belgrade over an hour after it was due. Perhaps this was due in part to the two lengthy passport checks each side of the border, and the somewhat languid pace the train maintained till we finally sped up a little getting closer to Belgrade. Perhaps the track improved ?  Still, not quite up to the expectations set by the Austrian and Hungarian high-ish speed trains. Once within Belgrade we seemed to spend inordinate amounts of time waiting at non-descript stations, or even in between stations.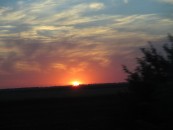 Still, I didn't mind too much. I'd stocked upon munchies, fruit and water before the journey.
Friday
My room in Belgrade appears to have been upgraded to palacial, also with balcony (complete with flowers).  This is of course with keeping with the superior accomodation allocated to Murray and myself in Veszprem, for no particularly good reason 🙂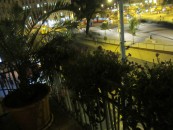 We walked to the Nikolay Tesla museum, an essential visit for any electrical geek. Tried to see if they happened to have a circuit diagram of the remote controlled boat Tesla demonstrated (surely the staff here must be used to geeks by now..). Alas no, his documented notes only started in 1899, a year after the boat.
Just on the point of departure I hear my name mentioned ?  Huh ? Well well, it's Tyson B from Tele-IP days. What are the chances ?  He's here in Serbia because his Schengen visa (elsewhere in Europe) has nearly run out, but he's also trying to get into Russia where his girlfriend is from. He's been living in Switzerland recently.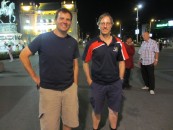 Also at the (free) PTT (Postal & Telecoms) museum we each were given a small book. Like the small telecommunications museum I visited in Zagreb, I think they are just thrilled when anyone techo visits them. Other  than 2 pages of English text it's all in Serbian (ok so the pictures aren't in Serbian, so you can look at them too) but the thought was nice.
Joined Tyson for dinner this eveing in the cobbled resturant district.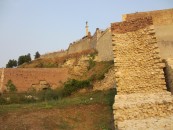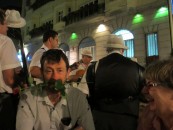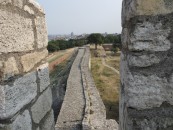 Full Photo Gallery down the bottom.
https://ardf.org.au/WordPress/2012/on-the-right-pecs/
Now over to Jenelle T
29th August 2012
Having left work at 4.30 and a good run home on the Ring Road managed to get ourselves sorted and attend to the last minute bills and garden watering. Lindsay took us to the airport with plenty of time to spare to peruse the duty free and chill. Not that we needed to worry as the flight was 30 minutes late boarding. Thank you Jill for the advice to choose central seats in the aircraft. That worked well and although I did not sleep a great deal could get up and wander around. My advice to you is take your air cushion, it worked a treat and did not get a sore back for the whole flight.
30th August 2012
Arrived in Dubai at about 5.15 and 30+ degrees and 90 percent humidity, took a bus to main terminal and then another to the terminal 2, a little down market but the best bit was they had proper toilets. Phew. Another wait. Realised I'd swapped my purse from the one with the 20 UAE Dhirans to the one with 50 US dollars, so need to change some money to buy some snacks. The Fly Dubai flight left on time and the flight went quite well apart from the altercation between the petite steward and some gent who had consumed a third of a bottle of Johnny Walker. Needless to say she confiscated his bottle and the ensuing argie bargie was rather entertaining. She won and in the end he apologised after he had slept most of the remainder of the flight.
We were met at the airport in Belgrade (under going building work) by Zlatan (husband of the woman we had been corresponding and his side kick Danny who is taking us on the country part of the tour). Very happy to see the sign "Ewen and Jennelle" in the arrivals hall, almost correct spelling but who cares. A quick trip into town and we were installed in our hotel opposite the Railway Station.
For the next 9 hours we managed to get ourselves geographically misplaced 3 times (I keep telling Ewen we need to take the compass with us, not leave it in his bag). Each time it took us 45 minutes to sort it out. There are some vital tips we need to follow, the sun is in the south, look for land marks and if lost ask where the hotel Moscow is. A gorgeous old hotel in central old Belgrade. We did find somewhere to have dinner and for just under 20 Aud for the two us we considered it good value and that included salads and of course the mandatory beer.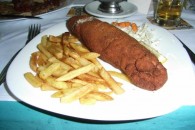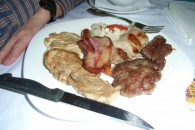 Eventually got back to the hotel, rather feeling rather guilty thinking we weren't back in time to meet Bruce, only to discover that he was yet to arrive. However his train from the Czech border was 2 hours late. Metro doesn't have it on its own to be late. About 10pm the hand held crackled. Bruce had arrived .There was only time for a quick chat and then sleep.
…and over to Ewen T
(Ewen's notes follow, done on very little sleep)
Left home about 1815. Lindsay took us to the airport and we arrived there about 1900. After we checked in the baggage Lindsay left and we went thru customs. After looking thru the shops we had a some coffee and cake and went to the departure lounge. We needn't have hurried as the flight was 30mins late boarding & departing. U'd think it would be reasonably easy to load an aeroplane with people but some confusion was evident. Eventually we were on board and departed. Managed to sleep for a reasonable time. Flight was a bit rough at times. Arrived in Dubai about pretty much on time at 0515 and caught the bus to terminal 2. Converted some $US to Dirhams and bought some munchies and drinks. Flight to Belgrade wasn't till 0910 so had some time to read the New Scientists I'd brought along. Flight left on time and once again managed to sleep a bit. Not much provided on the flight entertainment, had to buy everything except the most basic video. At least we could see the flight path. We were glad we had some Dirhams. Flight attendant had a bit of trouble with a somewhat drunk passenger. Fortunately he didn't cause too much trouble. Very smooth flight over some very rugged country.)
31st August 2012
Woke about 7am, feeling considerably refreshed. Headed down to the breakfast room, rather good spread and tucked in.
First job of the day was to relocate Bruce(room upgrade). We headed off to find the tourist info office at Republic Square. 3 orienteers, 3 different maps and a compass. In the end I had to ask someone and even then it was difficult to find. The course setter has a lot to answer for, dodgy maps, poorly placed controls and controls markings obscuring vital parts of the map. From there we went to the Nicola Tesla Museum, the information provided by the museum was supplemented by much technical discussion by you know who. The main attraction was a large Tesla coil which failed to light up Jenelle's fluoro tube. Also there was much deliberation over the remote controlled boat. A request for a circuit diagram was not forthcoming and so we headed to the next control.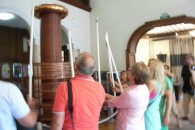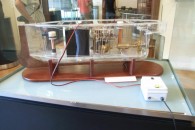 It would appear that much of Belgrade is having renovations, this museum was no exception.
Lunch was purchased for about $5.50 for the three of us and consumed in a park near St Mark's cathedral. The next control was Museum PTT, public transport we thought. Wrong! Postal, Telephone and Telegraph. Another case of checking the block on every side before we could locate the entrance. Quite small but interesting and again more technical discussion. We were each given a book about it, very useful if only we could read Serbian.
Next point was the Kalemegdan – the fortress. Very good control easily seen from a great distance with good catching features – the Danube River. Not lot off guard rails, just a sign. Note who is sitting and standing on the edge. There was a good view of the walls from the top of the tower.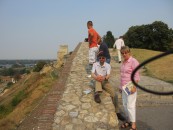 Next challenge was to locate the Residence of Princess Llubijana. Alas we ran out of time on this control (they locked the gate just as we arrived) and had to head back to the hotel via the icecream shop.