Well, surprisingly I do have internet.
I'm at a small hilltop town in NE Hungary called Bükkszentkereszt. We had some adventures getting here !
Gyuri (a radio orienteering guy from Hungary/US/Canada..depending on which hat he is wearing), mentioned in an email that there would be 2 days of training, after the weekend's Hungarian ARDF championships.The champs also serve as a selection trial for the Hungarian team to travel to Serbia. Murray and I decided we'd head that direction, via a scenic route and see what happened.It also meant I could get a lift to Pecs with Gyrui whilst Murray returned to Budapest to fly home.
We headed north from Veszprem, as I'd noted how scenic the train journey was from Gyor, then the idea was to head NE towards the Danube and travel along the bank, avoiding the centre of Budapest.
The scenery was great, and a cool change was blowing though at last. We saw this ruined castle and windfarm on the way: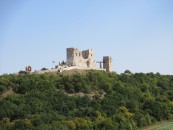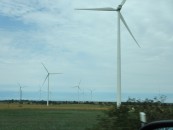 We momentarily visited Slovenia, due to an inadequate map, but then crossed back to Hungary (the hire car isn't meant to leave), and then a bit later had lunch on the bank of the Danube. Unfortunately a bit windly so not as pleasant as it sounds.
Bükkszentkereszt is about 200km ENE of Budapest, so we ended upon the motorway.The normal highway limit is 90km/h, but the motorway is 130km/h !  I got used to it eventually my first day back driving on the wrong side.
We had to contact Gyrui to let him know we were coming, so sent a text from Miskcolc to his mobile. No reply. Oh wellwe'll keep going. A few km up the road we came across an official waving at us. He couldn't understand us so waved us on. Soon it became clear.There was a rally stage in progress, and we could go no further. Only a few km short. We watched the cars as we wondered what to do. Murray happened across a "block road ahead" setting in the GPS, and it found us a roundabout alternate route. Good thing as it turns out as it was a beautiful drive around the mountains.
We wandered up and down the rally car and fume filled streets of Bükkszentkereszt hoping to find a free WiFi so we could ring Gyuri on Skype. No luck. Tried the public phone….phone card only it seems (the Visa symbol on the front Gyrui later told us is a lie). Finally a return text !  GPS coordinates. Off we go, onlya couple of km down a side road to here, a sort of basic cabin style thing. Went out to dinner with the Hungarians, so all turned out well.
Last blog here: https://ardf.org.au/WordPress/2012/wmmtbo-the-long-long/