Today was the 1st day of competition as part of the whole orienteering carnival in Stanthorpe, Queensland.
Victorians arrrived by car from Vic, or plane & car from Brisbane mainly yesterday and today.
This first day is not really part of the 3-Days, more just a warm up.
The family relays had amongst them the Collins, Key and Wymer families, all who performed extremely well. Peter Collins bet he would finish the medium course before his Mum, Phillipa on the short course. Phillipa, howver, was having none of it, finishing minutes ahead of Peter, despite his very credible 22 minutes (11th overall on the medium course). Eddie Wymer did the best Long course time.
Nick at spectator
The rest of us chose from short, medium or long courses. It was an interseting map with large open areas interspersed with surprisingly tricky rocky outcrops and forested strips. It wasn't overly hard, but had to be run at almost sprint course speeds to
do well, so you could think of it as a hard nav bush sprint. Map is shown here. Nearly everyone did something silly at some point along the course, so it's not as easy as it might seem at first glance.
Just had a BBQ at the hotel here because nearly everything is shut here on Good Friday.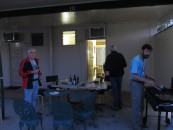 Tomorrow the 3 days starts in earnest, so I'm leaving Fred to use my bed,and annoy Mark & Ewen, and I'm moving out to a tent !