The Queen's Birthday weekend is typically looked forward to by the fox hunting community here in Melbourne, because it gives us an opportunity to test our equipment against the wits of SERG and the might of the South Australian pine forest. As always, we are extremely appreciative of all the work done by SERG to organise this event, particularly this year, shortly after the passing of our friend Wayne Kilpatrick, who has been involved with the Mt Gambier championships for many years. He will be missed, and our thoughts are with his friends and family at this very sad and difficult time.
On a more positive note, however, SERG paid tribute to Wayne by organising another fantastic Australian Fox Hunting Championship event, with many challenging and exciting hunts to keep us all entertained. With just a few spots of light drizzle and even some patches of blue sky, we couldn't have asked for better weather… Although, clearly there had been SOME precipitation in recent times, as a number of unlucky teams found out – no fewer than three people got bogged during the weekend's proceedings (one of those people being a would-be rescuer!) The extra multi-legged hunts organised this year added a lot of interest to the event, and we'd like to thank SERG, and in particular Charles and Andrew, for taking on board our comments last year and succeeding admirably in putting on an extremely enjoyable event.
One of the SA teams documented their experience with a series of photographs, which can be found here: http://rfhead.net/gallery/, along with video footage of the de-bogging rescue attempt gone wrong:
Bogged! Fun times at the Mt Gambier Fox-hunting Championships from Mark Jessop on Vimeo.
The VK3YQN team also valiantly recorded their own attempts to teach their Subaru to swim:
The YQN Suby – learning how to swim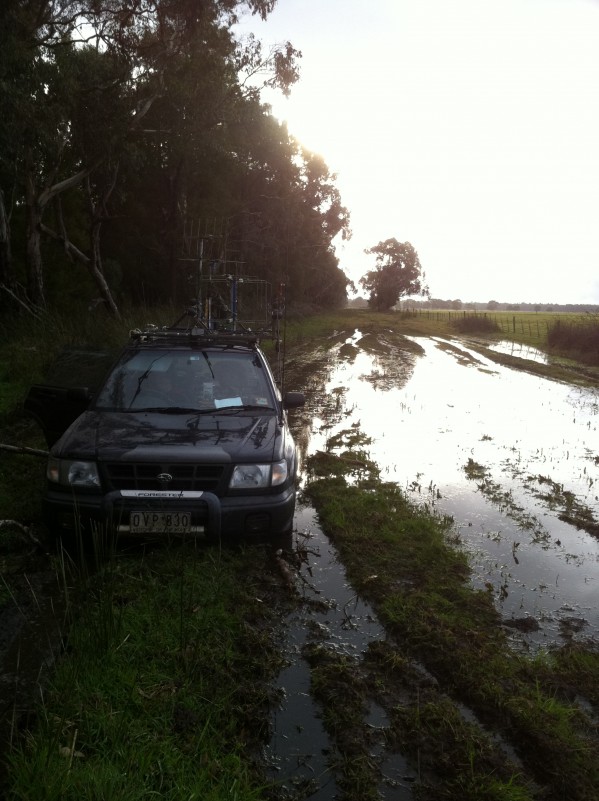 The Suby in the lake
"I'll wait here and mind the car"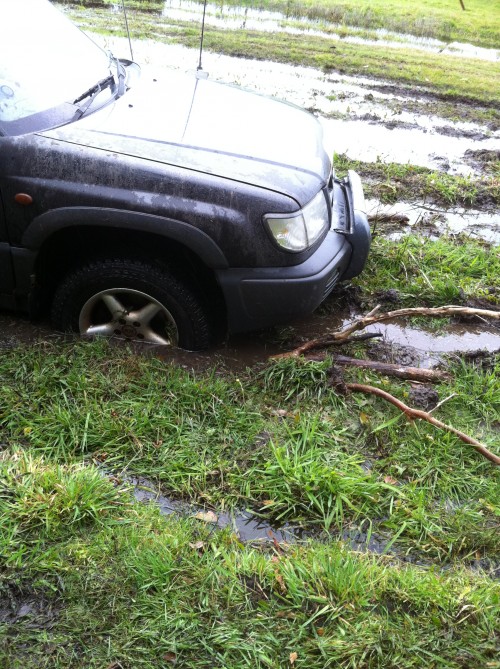 Every bridge starts with a small stick…
If anyone has any further pictures or stories, please send them along!