It was a blustery but warm day for the Karkarook Park Orienteerng and Sprint ARDF event on Saturday afternoon on 29th August.
Not only was the AR club running the Saturday afternoon Cake-O event, set and organised by Suzanne O'Callaghan, but the numbers were also boosted by AR members having a go at a 2m 5 transmitter Sprint-format ARDF event.
The new Map
Some orienteers were attracted by the new colour park map by AR member Geoff Hudson. This map had as the centrepiece the original 2005 Karkarook Park map by Adam Scammell, but now significantly updated from field checks by Bruce and Geoff. This was then extended by a colour street map of the area north of the bypass road, and extended south into industrial/retail estate. This region had previously been mapped by Steven Dunbar as a B&W street-O map for BK, but the detail was insufficient for park orienteering, so the decision was made instead to make a new colour map of the whole area.
Park O
There is a push to move Saturday Cake-O's from just another street-O to a bit more park based orienteering, and the new map and the cunning course from Suzanne did not disappoint. She had to avoid much of the newly mapped intricate minor tracks around the lake itself, as this was mid-winter and things had a chance of getting sticky, but expect to see a summer event taking advantage of these in the future.
There was strange indirect hearsay of some discontent from some about actually having to navigate, but this was rumored to be from persons who really should know better anyway (bush-O people), and were really just caught out being lazy.
Notable placings are Lauris Stirling and Ros King in Power Walking, and yours truly & Phil Torode in Run45 (noting that Phil was riding a bike).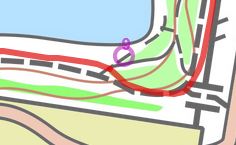 Sprint ARDF
Five 2m transmitters running 12s each, so the whole cycle takes 1 minute to repeat. The time limit was set to 90minutes, but a soft landing of 5 points/min late was applied instead of the normal ARDF sudden death overtime rule. Each TX was assigned 20 points, but due to a strange MapRun bug, the start and finish both counted as 20 points too.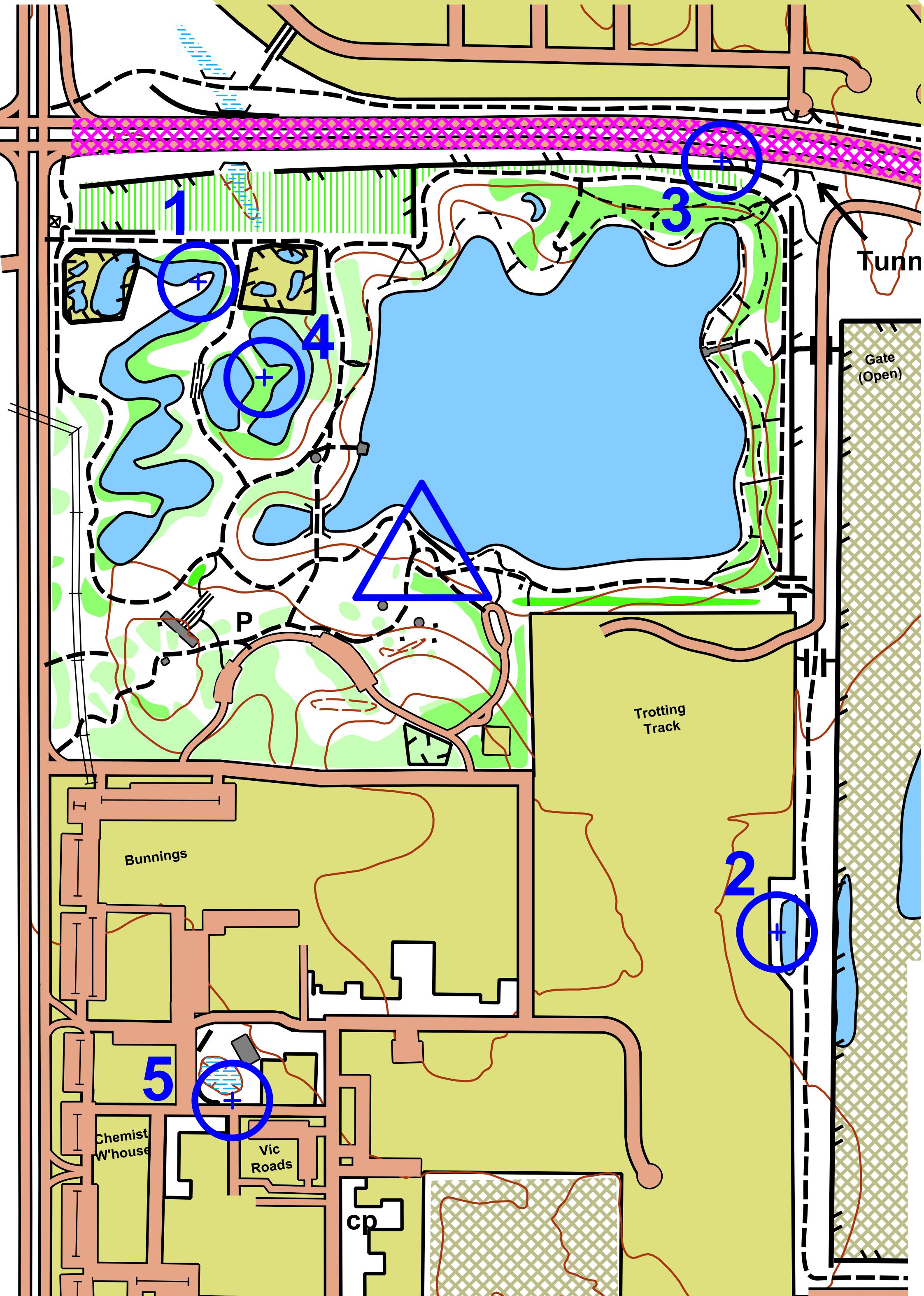 This map segment shows the 5 transmitter locations, but this is hidden from ARDF competitors both on the map and on MapRun when competing.
Some complained that the distance required for this Sprint event were more akin to a full classic ARDF, and though it is true the obstacles did make it longer than a typical Sprint, there were only half the number of transmitters than in a full double-stage Sprint ARDF. Also, here's what the normal classic ARDF exclusion circles of 500m and 750m look like on this map:
11 ARDF competitors gave it a go on the day of the Cake-O, and Darian completed the event (total 12) only yesterday (Monday 7th). His time has been adjusted to exactly remove the time he spent actually retrieving each of the transmitters (thanks Darian!) as he went. Peter C enjoyed it so much the first time, he revisited Karkarook during the week to try to track down the transmitters he didn't find the first time around. In that he was 50% successful.
Apologies to Dougie who replied just a tad late.
Here are the results. You can also see the routes taken.
Congrats to the placers: Bryan, Darian and Monica/Rod, just edging out Ewen from the placings, but who also located all 5 TX in time. Bryan also had the extra self-inflicted handicap of not using MapRun, and the transmitters were pretty well hidden from public view.
Here are the 4 routes of those who found all the TXs:
Next Event
Peter Cole is setting the next AR street-O this Wednesday on Academy Hill.
Darian has plans for a Large Sprint format ARDF (or small classic ARDF) possibly using 30s TX timing as a compromise (2.5 minutes per cycle). Those traveling overseas soon should let Darian know when you'll be back.
We wish Jack (as an official), Peter, Ewen & Jenelle the best of luck in Czech Republic at the World ARDF championships, 2023.