Sun, 12 August, 2007
Sunday 12th August was the date of the 2007 Vic ARDF championships. This event was being held in conjunction with an Orienteering event on the new Dales Creek Map run by the Tuckonie Orienteering club.
The weather for the day included all 4 seasons but fortunately all competitors had finished before the hail arrived. The rain the night before had made for some very slippery tracks in some places and there were reports of the bush-land running being faster.
There were a total of 10 competitors entered over the 3 courses. The Open division saw 5 male and 1 female competitor try their luck against the course setter (Mark Diggins) and the clock. Two competitors tried the 3 Tx course and 2 competitors had some fun with tackling the closest Transmitter.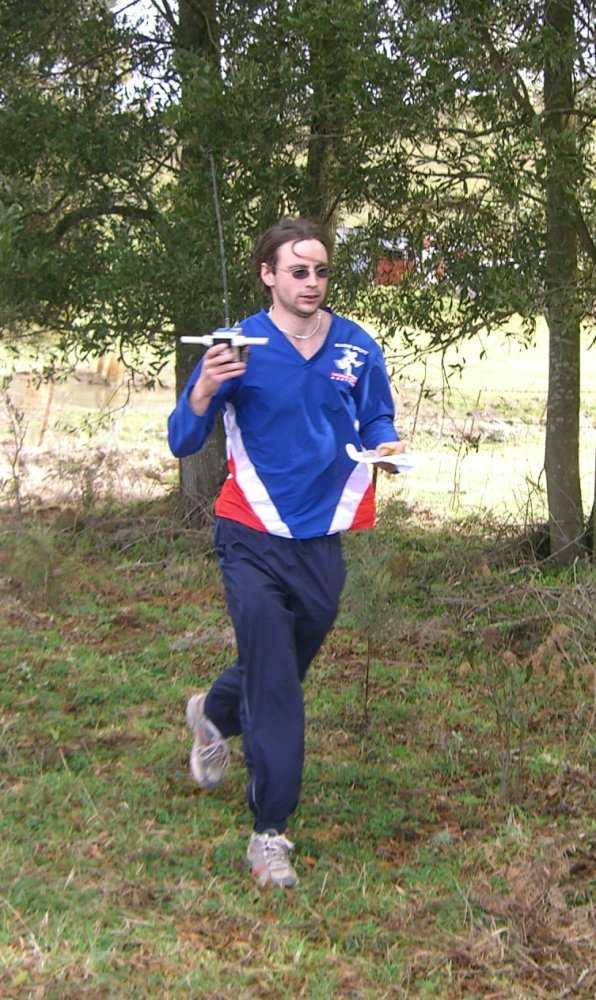 Adam – overall Vic Champs winner!

Marta and The Fitz finishing

Ian finishing  

Gary at the second transmitter
Marta and Fitzel

Busy at the finish table   The open division line length was approximately 7.4Kms whilst the short course was about 3.7Kms. The transmitters were all able to be heard from the start, but only just for some receiver equipment. There was some localized confusion with bearings but no common deceptions, much to the organiser's regret. Times for the Open division ranged from just over 1 hour to 2.5 hours.
Congratulations go to Adam Scammell, Bryan Ackerly and Bruce Paterson who were 1st 2nd and 3rd respectively in the Open Male division. Also winning this years championship was Marta Salek in the Open Female division.
A special mention also to Ian Chennell (VK3IDC) who was able to find all 3 Tx's on his very first attempt at ARDF and return in quite a good time.
A big thank-you is given to Julie and Sean Sunley of the Tuckonie Orienteers as this event would not have been possible without their support.
Open Division Male
| | | | |
| --- | --- | --- | --- |
| 1st | Adam Scammell | 5Tx | 1:09:11 |
| 2nd | Bryan Ackerly | 5Tx | 1:14:48 |
| 3rd | Bruce Paterson | 5Tx | 1:31:25 |
| | David Beard | 5Tx | |
| | Gary Panter | 5Tx | |
Open Division Female
Short Course
| | | | |
| --- | --- | --- | --- |
| 1st | Ian Chennell | 3Tx | 1:17:15 |
| 2nd | Ewen Templeton | 3Tx | 1:39:57 |
"Give it a try"
| | | | |
| --- | --- | --- | --- |
| 1st | Dianne and Arnneka | 1Tx | 0:13:41 |